ultrasn0w 0.93 released! Cydia repo is repo666.ultrasn0w.com. Works with basebands 04.26.08 thru 05.13.04
se lanza ultrasnow 0.93 ,la repo es repo666.ulreasn0w.com , trabaja con baseband de 4.26.08 a 05.13.04 q esta ultima es cuando actualizan a la version 4.0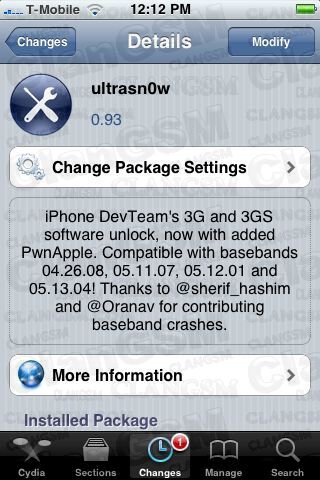 The iPhone Dev-Team has released a new version of UltraSn0w which can unlock iOS 4.0.
iPhone DevTeam's 3G and 3GS software unlock, now with added PwnApple. Compatible with basebands 04.26.08, 05.11.07, 05.12.01 and 05.13.04! Thanks to @sherif_hashim and @Oranav for contributing baseband crashes.
You can find instructions on how to install the UltraSn0w unlock here
Note: The iPhone Dev-Team has not yet released the jailbreak utilities for iOS 4. So those who want to update should wait a little bit. Those on 3.1.3 with the 05.12.01 baseband can install UltraSn0w right now to obtain an unlock.
Guide >>> How to Unlock the iPhone 3G, 3GS Using UltraSn0w
IOS 4.0 Download >>> *** Official*** Apple Releases iOS 4.0 for iPhones, iPods touch
************************************************** **********************
all four one!
Around an hour ago the new version of the iPhone Operating System (now called 'iOS') was released.
iOS 4 is a huge release for Apple with many many changes and those changes offer slick additional features.
These new features are being offered by Apple as a free upgrade to qualifying devices.
We are working hard on a release to our tools that will jailbreak your device (or give you iOS 4 via the jailbreak train) and provide you with a carrier unlock.
Until these tools are released you should hold off on updating your device until we have fully tested our tools with all the relevant devices.
If you rely on hacktivation or a carrier unlock (ultrasn0w) then you should not upgrade until we have fully tested and released our tools.
Don't be tempted with unofficial PwnageTool/redsn0w bundles or releases, just check here or our team twitter for real time release information.
Remember, we risk our devices so you don't have to (but this time anyone who has made a mistake upgrading their baseband firmware at 3.1.3 or 4.0 should be OK real soon Now!
Última edición por Admin el Mar Jun 22, 2010 11:40 am, editado 2 veces
_________________
Solo Usuarios Pueden ver los link de

 Descargas en todas las zonas Estan Ocultos los nuevos link.
gracias amigo disculpa q me eh ausentado ya estoy apueno de volver Salu2
_________________
is for EZRA
Si te gustan mis Aportes da clic en Gracias o deja un mensajeSolo usuarios registrados pueden ver los links

mctato

user new




Cantidad de envíos

: 335


Fecha de inscripción

: 26/04/2009


Edad

: 27


Localización

: Tegucigalpa



ecxelente aporte admin pero esperen q esto se compone ya em estoy mas desocupado y empezamos a dejar chido el foro ya veran

tavo_unlock

user new




Cantidad de envíos

: 190


Fecha de inscripción

: 18/03/2009


Edad

: 29


Localización

: columbia





Temas similares
---
Permisos de este foro:
No puedes
responder a temas en este foro.